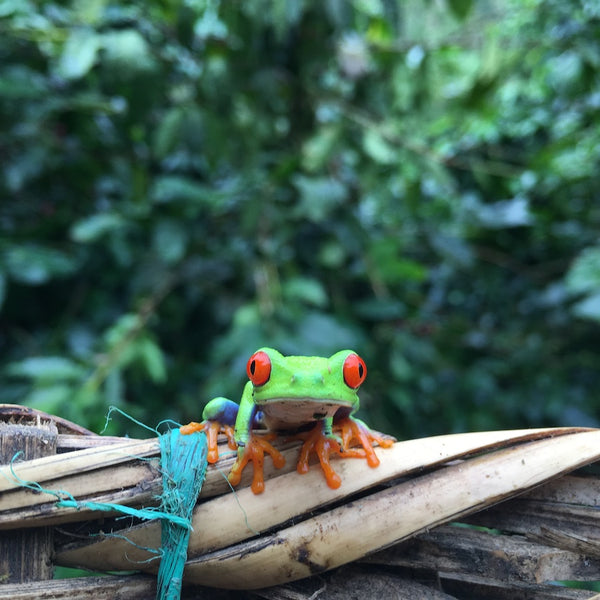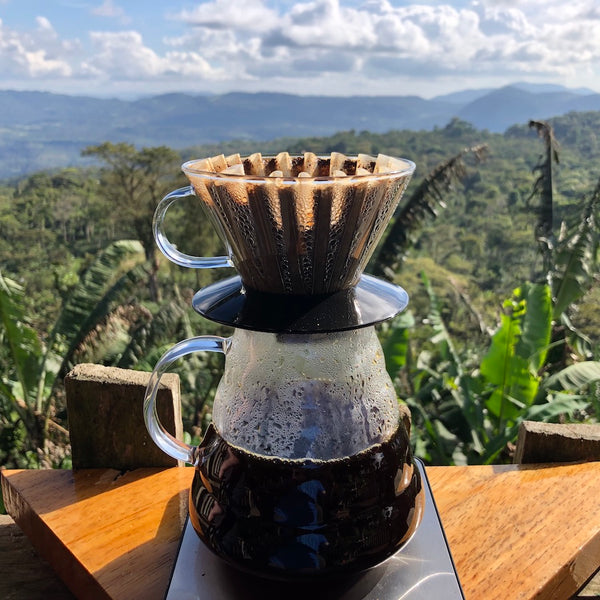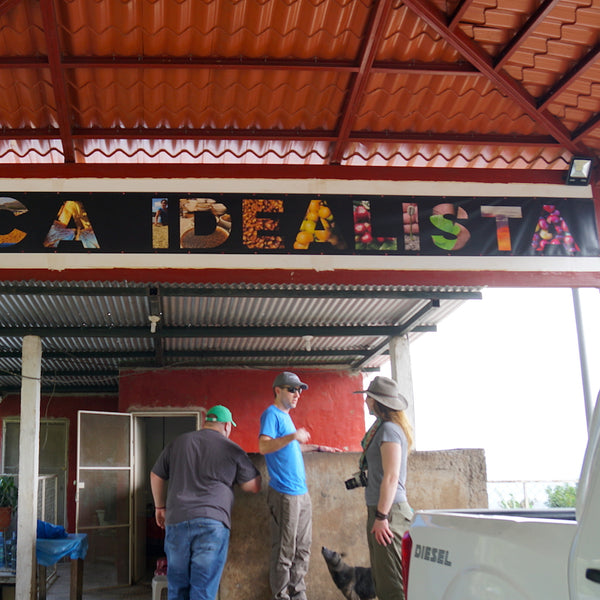 Sweet Honey Ross - Single Farm Direct Relationship Light Roast Nicaraguan Coffee
"Mango, Apple, Sweet & Smooth"
Ross is the name of the frog mascot in our logo, and the original photo that inspired that artwork was taken on the very farm that this coffee hails from: Finca Idealista! So we wanted to honor that storied lineage with a sweet coffee from that farm, and to celebrate the multi-year relationship we have with our longest direct relationship producer, Gold Mountain Coffee Growers.
About Sweet Honey Ross
Tasting notes: Mango, apple, brown sugar, light-medium body, sweet, easy drinking cup
Origin: Nicaragua, Matagalpa region
Farm: Finca Idealista ("Idealist Farm")
Elevation: 1200 masl (3,937 ft)
Tree varieties: Caturra
Processing method: Honey Process
Harvest Season: December - February
Current harvest: 2021-22, Arrived in US Aug 2022
Sourcing: Gold Mountain Coffee Growers (Direct Trade)
Honey Processing is an alternative method of preparing coffees for export, before they make their way to roasters like us. This process results in a generally sweeter cup of coffee and it's proven to be quite popular with our customers. First offered in our first year of business, we're excited to bring it back once again!
About the Farm: Finca Idealista
Finca Idealista is the flagship farm of our Direct Trade partner, Gold Mountain Coffee Growers. It sits on a mountaintop that borders a nature reserve, whose trees act as a natural air conditioner for its Paca & Caturra variety coffee beans. This cool microclimate lengthens the coffee cherry maturity process, allowing beans more time to absorb natural sugars and other attributes that contribute to a rounded cup profile.

Finca Idealista workers receive the highest wages around. Local pickers are trained to pick only the reddest cherries so that the farm's crop reaches its full potential and the highest level of sweetness. Extraordinary care is taken, both during wet and dry processing, to inspect all beans and ensure that only the finest, ripest coffee is exported. In addition to washed coffee, the farm has invested in special infrastructure to increase production of natural and honey process coffee, with outstanding cupping results.
Finca Idealista invests in volcanic filters to protect the environment from run-off when coffee is washed. The volcanic material is brought from Masaya, one of Nicaragua's volcanic regions. Gold Mountain recently purchased an adjacent section of rainforest for the sole purpose of protecting its flora and fauna.
In addition to its focus on quality, Finca Idealista supports the growth and development of the community through educational supplies and running water for schools, scholarships and medical supplies, free computing classes for girls, and new initiatives based on needs assessment.
Its partner organization, Gold Mountain Cofffee Growers, LLC, won the 2016 SCAE Sustainability Award for joint economic and environmental achievements.
Learn more about Gold Mountain Coffee Growers/@goldmtncoffee (Instagram, Twitter, Facebook)