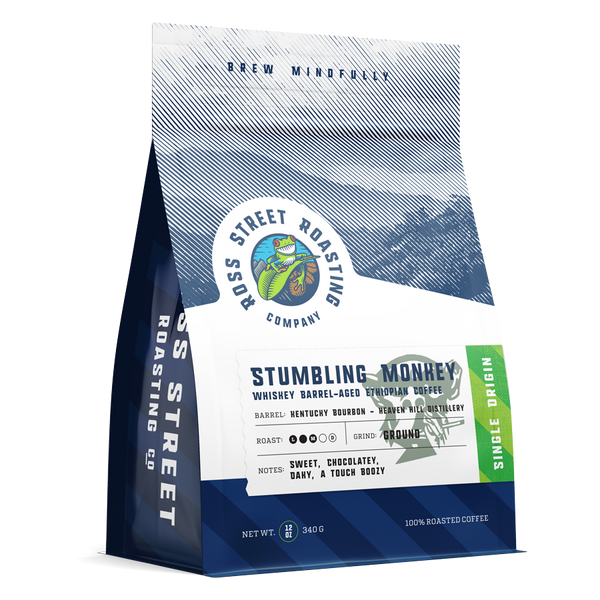 Stumbling Monkey '23 - Whiskey Barrel-Aged Ethiopian Coffee
EXCEPTIONAL RELEASE
Stumbling Monkey '23
This exceptional, limited release coffee is perfect for those seeking an indulgent and totally unique coffee. Enjoy tantalizing aromas of vanilla, chocolate and oak, followed by smooth and boozy notes. Enjoy the amazing flavor in this Ethiopian coffee that has been barrel-aged for 30 days! Indulge your senses!
About the 2023 Release
Roast Date: Monday, December 4, 2023
Spirit & Barrel: Old Forester Rye Whiskey, Brown-Forman Distillery, Shively, Kentucky
Beer aged after the spirit: Richard The Whale (Russian Imperial Stout), Big Grove Brewery, Iowa City, Iowa
Coffee: Ethiopian Natural Process, Mormora Farm, Guji Zone, Oromia Region
Tasting notes: Vanilla, chocolate, oak, boozy notes balanced with toffee, and cocoa. Medium body & smooth mouthfeel. Lingering fruit acidity from the original coffee.
More about Stumbling Monkey
This annual exceptional release has developed a large and passionate following! Each year, we get an American oak barrel that has aged a spirit, then a beer, then we age unroasted Ethiopian natural process coffee beans in it for 30 days. We then take the unroasted coffee beans out of the barrel, roast these amazing coffee beans, and ship it out to our raving fans!
Brewed hot or cold or even as espresso, Stumbling Monkey leaves quite an impression. Not sure if you'll like it? We've learned to coach people:
If you like whiskey and

 

coffee, chances are you'll like Stumbling Monkey.
If you like one, but not the other, there's less of a chance you'll like Stumbling Monkey.